Associates
True Colors
Reflections on Being Retired by Jeanne Brolan

It has been a long time in the life of a tree since it had new buds on its branches. Spring turned those buds into green leaves. All the tree branches in the forest around our home were green. I was not aware until this year that the green in the leaves, the chlorophyll, is just covering up the natural color of each leaf. In the Fall when the weather becomes cooler, the green is drained from the leaves and we discover their true colors. The colors on the leaves at this time of the year displays the hidden beauty of each leaf. People come from all over to stand in awe looking at the true brilliance of color on the trees leaves. The cycle of the life of these trees continues as the wind blows and the cold air moves with mixture of rain and snow. The beauty we were in awe with has fallen to the ground and returns to the earth.
As I witness the life cycle of the leaves I find the relationship of nature to humans once again. In my first half of my life was my time of being filled with chlorophyll. My focus was on much more than who I was deep inside. There was not the time to stop and emerge into who my true self was and how I fit into my creator's plans. I was like the peddler in the children's' book "Hats for Sale". He would walk the streets with all his hats on his head. My life was filled with so many hats, you could not see my true colors. Life covered me with human's version of chlorophyll.
It has been three years since I retired. I had great plans for retirement. I was going to keep using the knowledge I had of autism. I even found three school districts who were interested in having me volunteer with them. Life had other plans for my retirement. I was given the gift of awareness to my surroundings. When I was making all my plans I lived in the city. A month after I retired we moved to our lake house and the world of nature gave me new vision. That vision required a need to immerse myself into yearning to grow deeper. My heart strings were no longer tied to my passion of autism. I was being pulled inward. Our first year at the lake allowed me to totally let all my senses experience the intensity of nature's wonders. My Creator became alive each day as I witnessed the awe around me.
I am perplexed by my continued desire to be part of the awe I have been allowed to experience. Everyone I know is doing so much with their retirement. Very good and fulfilling things. Giving of themselves and their time. I listen and ask my God what it is I should do with my time. I wonder if I am just not paying attention some days. Then I look at the leaves and how before their time is up they have found their true beauty. Is retirement a time where we humans are allowed to strip our selves of our chlorophyll and find our true selves? When you allow yourself to go deep, it is not only your true self you find. You find the God with in you. Relationship with your God becomes alive. You no longer are the peddler in the story, you have sold all your hats. You have time for all relationships. You not only can show your true self, you can see those you love in a different light, you have time to see their true colors.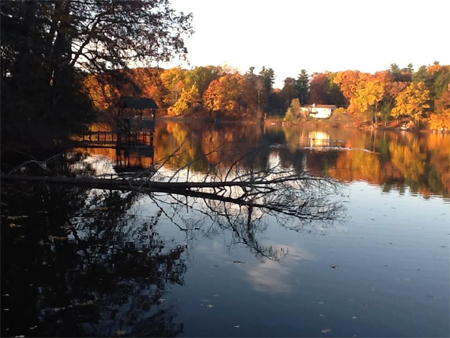 As I walk in the forest and kick the leaves that have fallen I am reminded of my years working with hospice. I had the privilege of being with patients who were dying. I look at the leaves beneath my feet, those that let go of their branches and am reminded of all those I have seen let go of life. It was always a mystery to me how the dying process went. It was a sacred time, I never witnessed any one wanting to stay. I did witness many who did not know how to let go. For the patients who took a long time to let go, one of the questions would be "Who are they waiting for?" Many times, that long-lost sibling would walk in the room and shortly after their visit the patient would let go. Other times letting go would take place after their clergy had prayed with them.
Nature's ways of showing the true colors of the leaves before they let go and returned to earth is setting such a beautiful example for our retirement time. I have found retirement is about relationships, it is about finding your true self, your true colors. It is about using this time to reveal what your Creator has formed in you. Just as the leaves, share your true colors, your hidden beauty and give praise to God as who you are.
---
Compassionate Presence with Migrants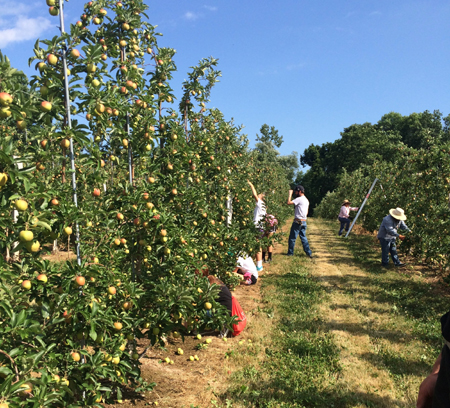 Norah Nolan Cramer who lives with her husband Doug in the Finger Lakes area of New York State is actively involved in her parish mission work. Assisting with parish teens, she helps with confirmation classes, youth retreats, conducts Citizenship Prep classes, collects gifts for all families in need for school supplies, etc, etc.
In her ministry of service, Norah states that "Perhaps the most impactful thing we did was to take our teens who were participating in our yearly Service Camp to work along side of the migrants at an apple farm with the migrants sharing their stories deeply touching our kids."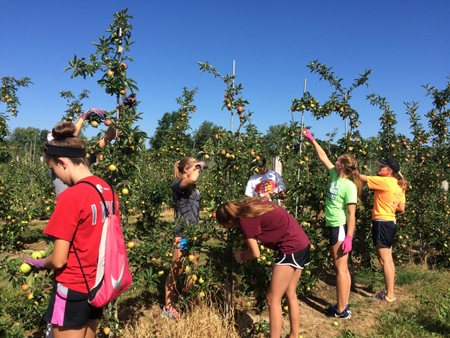 Norah says of this service, "we can no longer have a large presence at the church - it draws too much attention to the community and ICE parks on Main Street of the small village. People are afraid to travel too - they keep getting picked up in random stops by the police. The stories are heartbreaking - one of our confirmation students, both of her parents were picked up and are being deported so she and her two younger siblings will be left behind. The parents have been here for 16 years - she and the siblings are US citizens."
Norah knows first-hand the difficulties experienced by migrant workers and their families. We SMICs are grateful for her missionary spirit linked to the SMIC charism of contemplative, compassionate presence to those most in need.
---
Remembering Sandy Bradford
"Start by doing what is necessary, then what is possible and suddenly you are doing the impossible"
St. Francis of Assisi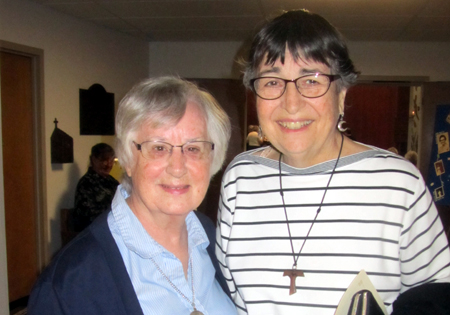 Sr. Christina Marie Keelean with Sandy Bradford
The Missionary Sisters celebrate the life commitment of Sandy Bradford who returned to God earlier this summer of 2018.
Sandy, from long ago heard and responded to the Lord's invitation to use her missionary heart for the good of the poor and needy.
First coming to know SMIC as a professed Sister, Sandy's love for the Congregation and her service to the poor continued throughout her life into her marriage and professional work as a physical therapist.
Over the years, Sandy has been to Brazil several times to offer English to our Brazilian SMIC Sisters. She loved being in Brazil and received such delight to connect with the people and Sisters.
A missionary heart was shared by both Sandy and Bryce Bradford while raising their three children in Detroit, MI for 22 years and moving to LeHigh Acres, FL. Their life of service includes presence to the Navajo tribe in New Mexico for 5 years and, in 2011, joining overseas mission service with Franciscan Mission Service in Washington, DC where they taught English at the Franciscan Mission in Zambia. After returning to the States, Sandra continued to offer her service to SMIC as an English mentor through long distance Skyping with our Brazilian Sisters.
We offer our gratitude to God and to Bryce for caring so well for Sandra while she was among us.