Ministries
Sr. Eva Hernandez
Sr. Eva Hernandez, SMIC is an ever ready advocate for the poor and homeless. With a heart as big as the world can know, Eva faithfully lives out her deepest call which is to assist those in need.

Sr. Eva Hernandez
Long ago trained as a social worker, Eva knew firsthand the sadness and desperateness of many whose reality was marked by insecurity, living on the edge always wondering where the next meal was to be secured. She was always prepared to give her "yes" to helping, organizing, delivering what she could do to bring comfort and to walk in solidarity as a Gospel witness. Though formally retired, Eva still faithfully attends to this ministry with passion and great love.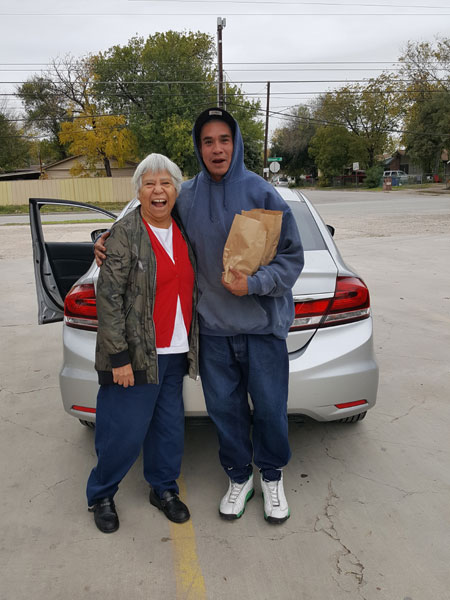 Sr. Eva with grateful recipient..
On a recent visit to Eva in Austin, Texas, Sr. Janice had the opportunity to join with Eva to prepare the lunch bags for distribution. Filled with either peanut butter and jelly or ham and cheese sandwiches and accompanied by chips, pudding, cookies, candy and a water bottle, the 32 or more bags were organized for easy carrying to the various sites of homeless camps.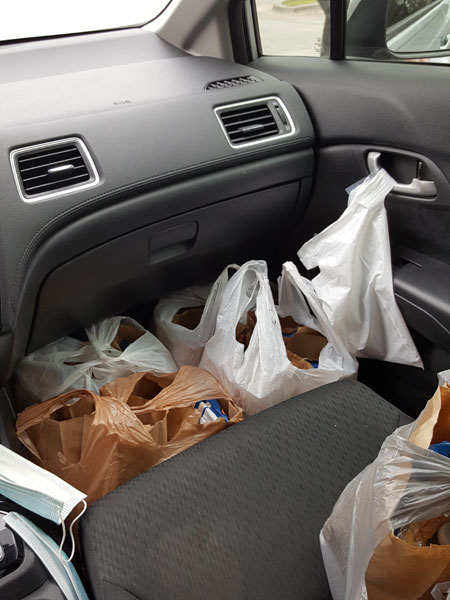 Car load with 32 bag lunches to distribute
Driving down the streets to seek out tented areas under highway overpasses Eva would head her car to a parking spot and we would then make our way to offer what we had. Oftentimes we were met with words of gratitude, eyes of thanksgiving for the little we actually had to share. Eva had heard of the many stories shared by individuals faced with this desperate situation, stories of bad luck, bad choices and some of persons obviously troubled with mental illness and drugs. Each person was treated with equal respect because for Eva, they are God's creation and our brothers and sisters.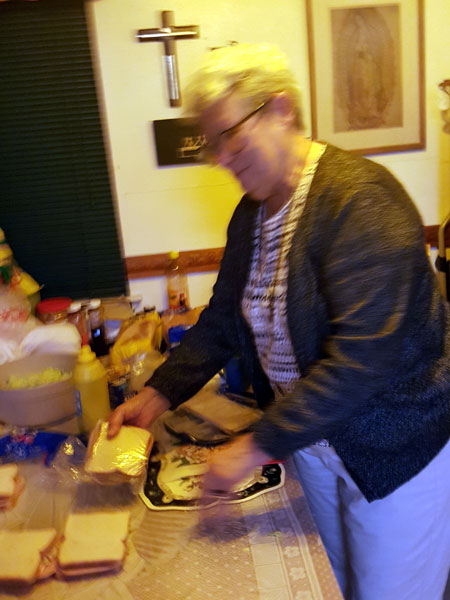 Sr. Janice Jolin a welcome helper
Eva, we thank you for living our SMIC charism which is to be a contemplative presence to those most in need.
---
The US Unit helps sponsor a food garden at the congregational school in the Village of Tamba.
It's success is inspiring the local community to start their own gardens >>read more
---
Since our arrival in Denville, many of our community members have been loyal volunteers, assisting student Sisters to negotiate the college educational system especially by strengthening them in English. Assumption College for Sisters is a two year college program which was begun especially for Sisters from other countries including several countries in Africa, Latin America and from Vietnam. The school is administered through the kindness of the Sisters of Christian Charity of Mendham,
Their website is: https://acs350.org/
NJ. SMICs who are tutor the Sisters to master English as a second language include Sisters. Sheila, Kate, Marcia, and Margaret. Sister Eleanor offers her skills as a spiritual director and Sister Janice as a health care provider.
The photos were taken when the Student Sisters were invited to join our community for an afternoon tea in April-May.