Past News
Why a Pilgrimage to Honduras?
To learn about the root causes of violence and poverty driving people away from their homes
To learn about the US government's role in deepening the humanitarian crisis in Honduras
To learn what the Honduran people would like Americans (and other international advocates) to do to support them in their struggle for democracy, rule of law, economic well-being, and protection of those struggling for their rights.
To accompany our sisters and brothers in Honduras to express our love and solidarity and to commit ongoing support for them in the spirit of San Romero.
To be able to educate your community about the real causes of the mass exodus from Honduras.
To be able to educate your Congressional Representatives about the root causes of emigration from Honduras and urge them to support legislation and other policies to stop harming the Honduran people and adhere to US and international law regarding the treatment of asylum seekers.
To help change the government and media narrative of border security from blaming those seeking protection to addressing the reasons why people choose the dangerous journey to the US border.
This is the message we are asked to bring to the U.S. from our Honduran brothers and sisters:
1. STOP sending arms (military aid)! We are not at war! The guns threaten us, oppress us and kill us when we speak for our human rights. The guns are also sold to the gangs that extort from us under the guise of protection.
2. We do not oppose development (industry) coming into our country. We do however, demand that these industries respect our rights to clean water, air and that the wealth amassed by the companies be shared with us through living wages, school and health care, etc.
---
These are some events we experienced during our week stay in Honduras:
As we arrived in San Pedro Sula and made our journeys to the retreat center, we are already noticing so much. As we flew in, we saw the beauty of the land juxtaposed with the devastation of mono-cropping as we flew over row upon row of palm trees. They have been planted to close together that subsistence farmers can't grow food to feed their families under the dense canopy. There are billboards and signs along the road - promising urbanization and celebrating tourism. As we drove to our retreat centers, the magnificence of the mountains was partially obscured from the smoke rising from the many industrial sites. Yet the warm welcome we received with delicious supper and fresh coconuts to break into and drink graced us with a few moments of rest.
In preparation for Tuesday's journeys, we offered welcome to one another and received welcome from our host, Padre Melo and our leaders, Deborah Lee (Interfaith Movement for Human Integrity) and Jose Artiga (SHARE). After a blessing, we made our way to our rooms to get ready for a very full week.
In the first two days of our visit in San Pedro Sula, La Presa, and Bajo Aguan, we were witness to the multiple forms that violence can take. We heard about assassinations and death threats to human rights workers and water protectors; cultural violence against indigenous communities, women, and those who identify as LGBTQ; structural violence perpetrated by security forces against communities protecting their land and water; systemic violence of corruption, dehumanizing poverty, and deep economic injustice; gang violence and more.
More importantly, we were privileged to witness creative nonviolent strategies being used by countless individuals and by almost every community and organization we met. For example,
Radio Progreso itself regularly and at great risk broadcasts the stories of people struggling for justice and lives of dignity - countering the violence of the state, powerful companies and international interests.
ERIC monitors human rights violations and accompanies threatened communities to prevent more killing.
Organized communities in San Ysidro and Colonia Alemania are pursuing every legal route possible to stay on their land; one woman in San Ysidro simply sat with her children on the construction equipment waiting to level their houses as the whole community was threatened with expulsion.
Women, who are the backbone of almost every movement for justice in Honduras, have formed effective networks, including the Women's Forum and the Lenca women in Santa Barbara who are fighting for Mother Earth. Through art, symbols, stories, and political declarations they keep their struggles vibrant, remembering, as a source of inspiration and motivation, those who gave their lives in that struggle.
Tejedores de Suenos (Dreamweavers) nurtures the self-esteem of women as they claim their basic right to dignity and respect, pushing back intimate as well as public violence.
An active LGBTQ network has formed to make those who identify as LGBTQ more visible in Honduran society and thus less vulnerable to threats or assassination.
The Alternatives to Violence program was introduced into the prisons in San Pedro Sula and prisoners themselves are trained to facilitate the program.
Sisters of Mercy, School Sisters of Notre Dame and their co-workers love the children of violence back to life, helping to heal the traumas and push back the violence, including of gangs, that threaten to overwhelm.
Local Honduran communities living with unimaginable danger have the creative imagination and the courage to believe in the power of nonviolent action. We are humbled to be in solidarity with them and to help raise the volume of their strong voices.
Our conversations and engagements deepened on Wednesday and Thursday.
Some of us visited one of the Border Communities of San Pedro Sula. About 100,000 people live in this area near the water and in the shadow of high-rise luxuriant condos. Clean clothes on the line and babies in arms are signs that life goes on here even while Grandparents care for the children of their sons and daughters who have gone North hoping to provide a better life for their families. Armed guards have threatened them, sprayed them with tear gas, and pulled furniture from their homes. People with more power and influence want a parking area for those in the condos. The community stands firm.
Others heard the stories of the Water Defenders and the way they show up to protect the land and the rivers even when their lives are at risk. The amazing thing about these conversations is what we learned: defending the water is not a job that only a few can do. It is work that all of us need to do. We saw that the whole community organizes around and engages this work every single day. They find their strength as they organize and they told us that our solidarity was an important way for us to encourage them as they continue the struggle.
We converged in Tegucigalpa Thursday evening for an Ecumenical Rally and Vigil to remember the Guapinol 12 and those who remain incarcerated for their commitment to speak for their (and the community's) human rights as well as to continue the fight against impunity and corruption in the government.
---
WHY we said "YES" to join the delegation of the Honduran Pilgrimage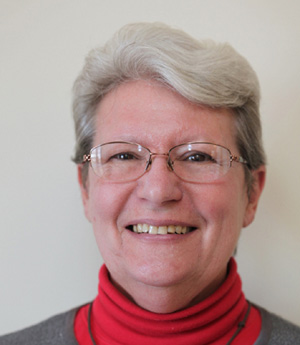 Sr. Janice Jolin, SMIC
When our leadership asked if any SMIC was interested in joining the Honduran Pilgrimage encouraged by LCWR, I asked if "there were strings attached". I wasn't -and still am not- in an enthusiastic WOW about the pilgrimage as it will take me out of my comfort zone now and will do so to a greater degree when I return and become involved with the "attached strings" of going to groups and talking about the experience -not hard but for me still harder, living out the commitment to be a "thorn in the side" of our governmental reps. who buy into and support the fear tactics of invasion by criminals on our border that are on news media daily.
To be compassionate to the suffering is an experience in which I need no extra practice as my ministry takes me down this path each day. It is the life giving breath of the Spirit in my journey as an earth pilgrim. As a nurse and a therapist, I have been given the Call and a corresponding gift to heal. I do believe that even when I see no evidence of a cure, God's love is operative. It is this that I bring with me and realize, as I always do, that on this pilgrimage I will receive more love and truth than I can ever bring to a week face-to-face mission of solidarity.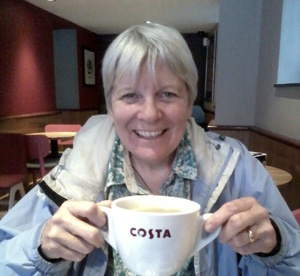 Norah Nolan Cramer, SMIC Associate
I don't know why God is calling me to go. In January I was sitting in a restaurant with a friend. He was telling me about a parishioner of his, who was building a school in Honduras and who needed help. I flippantly replied, "So when are we going to Honduras?" A week later, Sr. Janice contacted me about an opportunity to join her on a pilgrimage to Honduras.
I am part of a group that is doing a 30 week Ignatian Spiritual Exercise Retreat and one of my biggest challenges has been to B.O.S.U. - back off (I do love telling God what to do!) and shut up (see previous parenthesis). So in trying to be more faithful to the Exercises in recognizing God's movements in my life, I figured that since the topic of going to Honduras came up twice in a week, it was a message. So I applied, trusting (and praying) that if this was what God wanted me to do, my application would be accepted. It was.
From my limited experience in migrant ministry, I have witnessed the terrible toll that our immigration policies and actions have taken on families and especially the children. My parish partners with a local migrant church to whom we provide support. The people of Our Lady of Guadalupe are always very grateful for the financial support but their biggest request is for us to be companions on their journey. And there it is again - B.O.S.U. Nothing needed just walk with us.
True confession - my feet are getting a little chilled. It is intimidating to see the list of participants who are very talented, dedicated, experienced individuals. A talent/gift survey sent by the organizing group did not produce a positive result for me! Can you serve as a translator - don't think they want someone who took Beginning Spanish five times (yes, five times) for that job; Musician? Nope - even the dog howls when I sing; videographer - only if you like video that shakes, etc, etc. So I ask, "Why God?" And in the silence, I know the answer will reveal itself - maybe today, maybe in Honduras, maybe when we meet face-to-face and all will be good.
We met no one to fear at the border
---